Children's Dentistry
Your child's future smile depends on healthy teeth and gums at a young age. Our family dentists provide age-appropriate care for even the youngest of patients, giving your family the resources necessary to enjoy a lifetime of strong teeth.
Some of the children's services we provide include: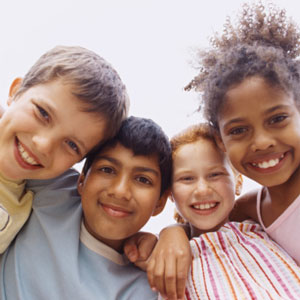 Checkups and Evaluations – Routine monitoring of your child's oral development allows us to pinpoint concerns when their easier to address and less invasive to treat. Experts recommend all children receive their first dental exam by one year of age.
X-rays – Digital imaging allows us to evaluate areas not visible during an exam, such as developing teeth, cavities and orthodontic irregularities.
Cleans – Gentle cleanings keep your child's smile healthy and provide an opportune time to discuss personal oral hygiene.
Fluoride – Applying this natural mineral to teeth encourages healthy enamel development and reduces the risk of cavities.
Fissure Sealants – Cavity-prone areas such as the deep grooves and pits of back teeth can be sealed, making them easier to clean and less prone to developing decay.
Dental Fillings – Cavities can spread rapidly in children, especially in their primary (baby) teeth. Treating them early is the most effective way to avoid any impact on their adult smile.
Child Dental Benefits Schedule Accepted
Qualified children between the ages of 2-17 who receive Medicare benefits can receive coverage on most basic dental services. The $2,000 allowance resets every two years for children who qualify. All procedures are bulk billed for convenience of the child's family.
Oral Hygiene and Nutritional Counselling
During your child's visit, our team will walk them through essential information such as how to brush, floss, make healthy diet choices and discus any modifications that should be made to their current habits.
Contact us today to schedule an appointment for your child or the entire family. Is your child involved in sports? Be sure to ask about our custom mouthguards.

Children's Dentist Frankston, Frankston South, Landwarrin VIC | (03) 9770 6069