Dental Crowns and Bridges
When your smile has suffered through accidents, cavities or everyday wear, it may need a protective restoration or a replacement tooth to help your bite maintain its normal function. People often think of crowns for fixing crooked front teeth but dental veneers are an alternative solution to improving your smile too.
Thanks to our custom crowns and bridges, you can enjoy a stronger bite without having to compromise aesthetics.
Custom Ceramic Dental Crowns
Crowns protect brittle, broken and decayed teeth with significant structural damage. Because crowns cover the visible portion of your affected tooth up to the gums, the tooth underneath is able to better withstand everyday pressure from biting and chewing.
You may need a crown if you've had: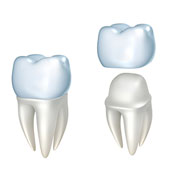 Getting a crown is usually a two-step process, starting with a preparation and impression of the tooth, then the placement of your permanent restoration about two weeks later.
Tooth Replacement with Fixed Bridges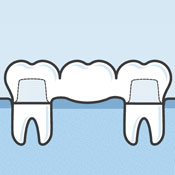 Bridges are multi-tooth restorations that fill in the "gaps" left behind by missing teeth. The crown on either end of the bridge is anchored onto neighbouring healthy teeth — or dental implants — while suspending an artificial crown between them.
In most cases, traditional bridges are ideal for only one or two missing teeth. But if the bridge is supported by implants it can be used for a much wider space.
As with crowns, bridges are made of quality ceramics that mimic your smile's natural anatomy and colour.
Request an Appointment
How long has it been since your last checkup? Contact us today to book a consultation. We're open Saturdays!

Crowns & Bridges Frankston, Frankston South, Landwarrin VIC | (03) 9770 6069