Preventative Dental Care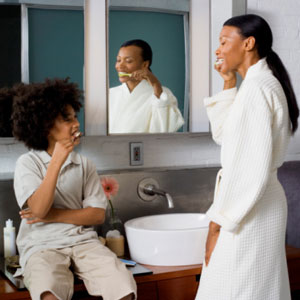 A healthy smile can last for life but it takes great preventative care to make it happen. Brushing and flossing are the perfect start but ultimately achieving optimal oral health means having a great preventative dental team on your side.
Reducing Your Risk for Common Dental Diseases
Through routine preventative care and education, we can help our patients limit their chance of dental issues related to cavities, gum disease, tooth loss and emergencies. At Dental & Dentures on 88 Beach, we offer a comprehensive menu of prevention-focused services for all ages, including:
Scale and Cleans – Preventative cleanings reduce the chance of developing gum disease later on and leave you with a brighter, fresher smile. We recommend a clean for our healthy patients at least every six months.
Comprehensive Exams – Ongoing assessment of your teeth, gums and current dental restorations make it possible to intercept problems when they're smaller and simpler to treat. During your initial visit we will perform an in-depth comprehensive exam, which we refer back to over time to monitor your mouth for any changes.
Diagnostic Digital X-rays – Radiographs allow us to evaluate areas between teeth and around the roots, which aren't visible during diagnostic exams.
Periodontal Exams – Assessing your smile for gum disease allows for earlier intervention before tooth loss is a major concern.
Oral Cancer Screenings – Early screenings are the most effective way to overcome this deadly disease. Even if you don't smoke or drink alcohol, you need to have an oral cancer screening at least once per year.
Oral Hygiene Education – Everyone's smiles are different. That's why we discuss your specific oral anatomy, hygiene habits and unique concerns to find ways for you to efficiently care for your teeth and gums on a day to day basis.
Fluoride and Fissure Sealants – Efficiently reduce you or your child's risk of tooth decay and sensitivity.
Promoting Healthy Teeth at Dental & Dentures on 88 Beach
Schedule a checkup every six months to keep your smile healthy. Contact our in-network provider today to get started.

Preventative Dental Care Frankston, Frankston South, Landwarrin VIC | (03) 9770 6069