Custom Mouthguards
Wearing a protective athletic mouthguard is one of the best ways to safeguard your child (or yourself) against common dental injuries.
The Professionally Made Difference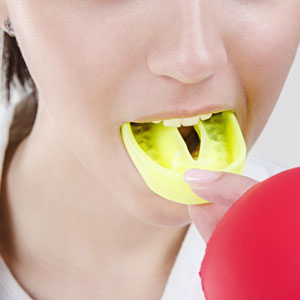 Having a mouthguard that's custom fitted for your teeth provides a far higher level of protection than an appliance you could buy over the counter. The snug design wraps closely around each tooth, protecting them from fractures, being knocked out and limiting the risk of busted lips.
Additionally, a mouthguard made by a dentist can offer protection against concussions.
Unfortunately, looser store-bought mouthguards can't. It all has to do with the design and how it rests on your teeth. While they may meet minimum requirements for protective sporting equipment, they provide a lower level of safety for the athlete.
Bite Splints for Teeth Grinding
Bruxism (chronic tooth grinding and clenching) can cause premature wear on teeth. Whether you clench out of stress during the day or tend to grind your teeth while you sleep, the accumulative effects can damage your smile and existing dental work.
Wearing a splint can prevent enamel damage and reduce the tension in your TMJ (jaw) that so often attributes to joint pain. Depending on if you're a day or night-time bruxer, we can make a special bite splint for you to wear.
If you've recently invested in cosmetic treatment such as dental veneers, we recommend getting a bite splint to protect your aesthetic results.
It's as Easy as 1-2-3
Schedule a consultation at our practice. We'll take an impression of your teeth and in just a week or two you'll be able to return to our office to pick up your custom mouthguard. You can even specify to have it made to match your team colours if you want!
Contact us today to get started.

Custom Mouthguards Frankston, Frankston South, Landwarrin VIC | (03) 9770 6069