Cosmetic Dentistry Services
Few things can make a fantastic impression as a stunning smile can. If you aren't happy with your grin, we have an array of smile-enhancing services. At Dental & Dentures on 88 Beach, we pair state-of-the-art technology with exceptional service to get you beautiful results.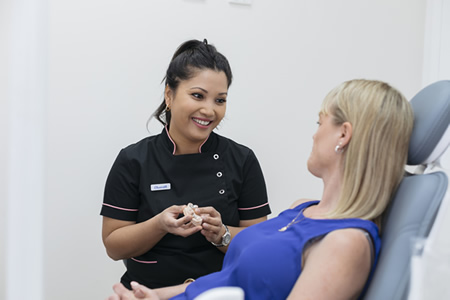 Did you know that cosmetic dentistry has not only aesthetic benefits but associated health ones as well? An important benefit is drastically decreasing the risk of infection in the mouth. Dental implants, bridges, and crowns all fill the empty spaces in your mouth that often produce breeding grounds for damaging bacteria.
From gorgeous veneers and teeth whitening to achieve that Hollywood smile to implants, we have all your cosmetic needs covered!
Explore our range of cosmetic dentistry services below.
Dental Crowns and Bridges
When your smile has suffered through accidents, cavities or everyday wear, it may need a protective restoration or a replacement tooth to help your bite maintain its normal function. Thanks to our custom crowns and bridges, you can enjoy a stronger bite without having to compromise aesthetics.
Dental Implants
While stocks, bonds, real estate and other investments may not yield great returns, an investment in your smile will. That's because, if cared for properly, dental implants can last for several decades or even a lifetime. Dental implants are biocompatible restorations that act like natural tooth roots. We place the implant into the jawbone, where it replaces the tooth root. After several months, the implant attaches to the bone, so it now resembles and mimics a natural tooth.
Teeth Whitening
Years of drinking coffee, tea or red wine can take a toll on the teeth. These substances can darken the teeth leaving a lacklustre appearance. With our professional in-chair whitening, we can give you a brilliant smile. The procedure takes only about an hour, making it easy to fit into your lunch break. Currently, we are featuring one visit, in-chair whitening, for just $495*.
You'll leave our practice with a brand-new, photo-ready smile. We also feature take-home kits.
Veneers
Porcelain veneers are custom-fitted "shells" that are applied and bonded to the front surfaces of the teeth in your "smile zone." They are used to cosmetically correct teeth that are crooked or misshapen or to cover up gaps, stains and chips in your teeth.
Who Is Eligible for Cosmetic Dentistry?
The majority of patients can receive cosmetic dentistry treatments. Patients must have excellent oral health and there can't be an infection present in the mouth.
Get a Confidence Boost!
If you have teeth that are missing, lacklustre, chipped or misaligned, you may experience a decrease in self-esteem. As your smile is considered to be your best accessory, make yours noteworthy. Our cosmetic dentistry options can help you achieve a stunning smile that can allow you to feel better about yourself. You also can improve your quality of life.
*T&Cs apply.

Cosmetic Dentist Frankston, Frankston South, Landwarrin VIC | (03) 9770 6069