Teeth Whitening
A brighter smile is the perfect accessory to look your best, enhance the results of upcoming treatments such as crowns or veneers, or simply take the natural stains off of your teeth that have accumulated over the years.
Depending on your goals and needs, we offer two types of professional whitening services in our practice.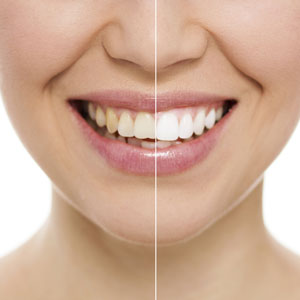 In-Chair Teeth Whitening
At Dental & Dentures on 88 Beach, we use only high-quality whitening products for a safe and effective outcome in about one hour. During your appointment, the LED-activated gel gets your teeth up to eight shades brighter while you sit back and relax.
Same-day whitening is ideal for people with busy schedules or who have an upcoming event such as a wedding, job interview or party.
Currently, we are featuring one visit, in-chair whitening, for just $580*.
Take-Home Custom Kits
When professionally fitted to your unique smile, a custom-designed whitening tray allows you to use a smaller amount of product while achieving more even results than strips or trays you'd buy at the chemist.
Paired with our professional-grade gels, your new whitening system can effectively lighten the colour of your smile in the convenience of your own home. Just use your kit at least one hour a day for 10-14 days, then touch up whenever needed to maintain the results.
How Does Professional Whitening Differ From Over-the-Counter Treatments?
OTC products are designed to be safe for most patients, but they can cause irritation or burning if used improperly. But with professional-grade gels, the product is more concentrated and only available for purchase directly through your dentist. Being that it uses stronger ingredients, you'll see more dramatic results in less time.
Before starting a whitening routine, you'll need to make sure your smile is healthy and free of conditions like tooth decay or gum disease.
FAQ
How long do the teeth whitening effects last?
While teeth whitening isn't permanent, many people can enjoy results that last from six months to two years. If you consume stain-causing foods and drinks, however, the whitening results can fade in as little as a month.
Do teeth whiteners damage tooth enamel?
Some studies of teeth whitening products that contain 10% carbamide peroxide revealed no effect on the toughness or mineral content of a tooth's enamel surface.
Will I experience tooth sensitivity?
Every patient will respond differently, but typically, your teeth should not be sensitive for more than 48 hours.
Are there any foods and drinks I should avoid after teeth whitening?

To maximise your whitening results, there are several foods and drinks to avoid. These include coffee, red wine, dark chocolate, dark sauces, berries and acidic foods such as citrus fruit. You also should refrain from using tobacco products.
Financing Available
We make it easy to get the gleaming smile of your dreams with interest-free payment plans through ZipPay, Afterpay and National Dental Plans. There's no interest ever. The application process is fast and simple.
Your Perfect Smile starts Here
We recommend whitening before upcoming treatments such as crowns or veneers so that your new restorations can be matched to the adjacent teeth (dental ceramics and porcelain maintain their colour when exposed to whitening products).
Contact us today to get started.
CONTACT US
Any invasive or surgical procedure may carry risks. Before moving forward, it is recommended that you seek a second opinion from an appropriately licensed medical professional. Not all patients are suitable to have teeth whitening treatment. Treatment will be provided post assessment by your dentist. Results vary.
*T&Cs apply.

Teeth Whitening Frankston, Frankston South, Landwarrin VIC | (03) 9770 6069